Our Team
Our team specialises in targeted interventions for young people who are most likely to use or instigate the use of a blue light service at some point in their lives. It includes experienced youth trainers and firefighters who are experts in the delivery of interactive youth interventions. We are keen to act as positive role models because we are passionate about young people's experiences.
Our target audience is any young person in West Yorkshire who may experience inequality in their education, housing, health and wellbeing. Barriers including poverty, having a troubled home life, mental health issues, being involved in antisocial behaviour (ASB) and possibly having a conviction or struggling with drug/alcohol issues, are all areas we wish to work with other partner agencies to break down.
Working preventatively with vulnerable young people can help to reduce their dependency on blue light services throughout their lives. Low economic well-being and deprivation is a key indicators of higher demand for the response services provided by WYFRS. Through offering additional opportunities for young people to develop their character, resilience, and determination, we will be a service to inspire behaviour change. We are not only raising their current safety awareness but developing their social responsibility and skills for their future.
Interventions
All of our educational interventions are free of charge but are intended for, youth groups, youth services, youth justice teams, Prince's Trust programs, and any other agencies working with identified vulnerable young people.
Princes Trust Programmes 
Work with West Yorkshire Fire and Rescue Service on the Princes Trust Programmes!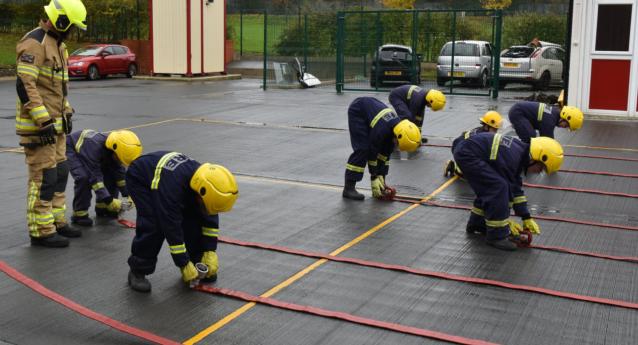 Prince's Trust Team Programme
A 12 week course focusing on teamwork activities, gaining confidence, increased communication and transferable skills for employment.
The Team programme is a positive step to future progression. Delivered on an operational fire station by our youth intervention trainers and firefighters, the programme includes practical drills and community safety activities.
Week 1 - Induction week and meeting others on the team
Week 2 - Residential experience away to try new outdoor activities and your confidence
Week 3 to 5 - Community project to learn practical skills and improve community safety
Week 6 - Crash and Burn course to increase resilience
Week 7 to 8 - Work placement to gain more experience in a workplace
Week 9 - Planning for the future with application support, CV writing and interview practice
Week 10 to 11 - Team challenge using new found skills to support other people at risk from a fire service perspective
Week 12 - Final celebration and a presentation of skills and achievements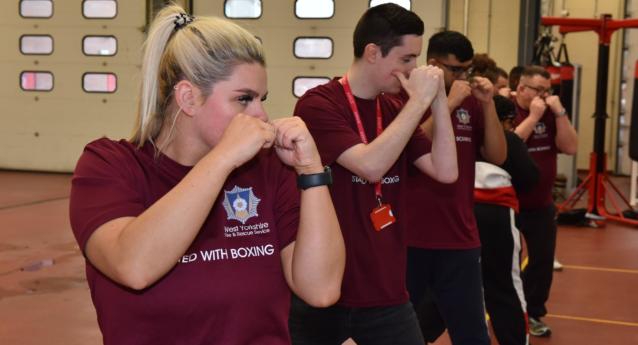 Princes Trust Get Started Programmes
WYFRS partners with the Prince's Trust to deliver a range of Get Started Programmes for 16 - 25 year olds not in employment, education or training.
The week long Get Started programmes support young people to discover new talents, develop confidence and skills in order to make the next positive step in their lives.
Our get started programmes include:
Get Started with Boxing - Young people have the opportunity to learn about self-discipline, teamwork, healthy and nutritional eating, first aid, personal responsibility - all within the background of boxing.

Get Started with Emergency Response - Young people have the opportunity to gain an insight into the Fire and Rescue service, develop understanding of health, fitness and wellbeing within the fire service, gain a first aid qualification and develop teamwork and confidence through Fire & Rescue Service drills and scenarios.

Get Started with Survival - Young people have the opportunity to transform their relationship with the outdoors by learning the core skills of survival. They will become competent in taking care of their survival needs in the wilderness while developing their teamwork, resilience and confidence.

Get Started with Health and Fitness - With a focus on physical fitness, young people have the opportunity to learn about mindfulness, nutrition, how to eat well on a budget and developing coping strategies while improving their physical fitness, resilience and mental wellbeing.
Funding and partners
WYFRS has a statutory duty to protect the local community. However, our programmes go above and beyond by providing more than a simple safety message. All courses are run on a strictly not-for-profit basis and 100% of the income is invested directly into the provision of the courses. We actively seek and secure funding opportunities and can support partners in applying for funding to deliver our programmes. This funding enables us to provide partners and young people the opportunity to engage with our provision without funding being a barrier
Prince's Trust Level 1 Award in 'Developing Resilience' can incorporated into all programmes over 30 hours for young people aged 12 years +. The qualification aims to support learners to increase their personal resilience by exploring, experiencing and developing different protective factors and learning how to apply helpful habits to manage life's challenges. Partners can incorporate the qualification into their programme for an additional cost of £10 per learner.
Testimonials
"The sessions gave young people, who often only receive negative feedback, an opportunity to participate in something really exciting and shine. This particularly showed their leadership and determination which I've not seen before! All staff have been made aware of this and so have the opportunity to celebrate success with them."
- Trinity Academy Halifax
"Our students all really enjoyed getting out into the local community, meeting the firefighters and WYFRS team to learn about the role of a firefighter and fire safety. The students showed increased confidence over the course of the programme. Having opportunities to try new things and follow instructions was beneficial for our students with complex needs. They particularly enjoyed the practical aspects of the session, especially getting to use the hose!"
- Fairfield School
"This has been an incredible experience and has literally saved my life and made me a new and better person."
- Young person following the Team programme
"Our students massively benefited from the intervention. They were given insight into the roles and careers available with the fire service. They have gained good understanding of healthy lifestyles, through physical fitness and a balanced diet."
- Minsthorpe Community College
"The bespoke sessions were highly engaging and challenged attitudes to risk taking behaviour. These sessions supported young people to make good choices and enabled them to participate, engage and learn about West Yorkshire Fire Service."
- Leeds Youth Service